HCM CITY — Wellness tourism has great potential but this new kind of tourism has not been effectively exploited in Vietnam, despite the number of potential wellness destinations and landscapes, experts said at a conference held in Ho Chi Minh city on Thursday.
Wellness tourism, which can enhance health through physical and spiritual activities, has become more popular around the world, said Nguyễn Thị Ánh Hoa, deputy director of the city's Department of Tourism.
Wellness tourism was available in 63 countries in 2013, and increased to 100 by 2018, Hoa said.
According to Wego and TrustYou, the cities of Hanoi and Hoi An, which have great wellness potential, are listed among the top 10 tourist destinations for wellness tourism services in Asia.
Hanoi, where tourists can easily enjoy a peaceful atmosphere and admire historical destinations, ranks in the top 5.
However, this type of tourism requires high-spending tourists who seek healthy experiences and spiritual balance.
According to the Global Wellness Institute (GWI)'s report, the wellness tourism market grew by US$639 billion in 2017 and that number stands to rise.
World travellers made 830 million wellness trips in 2017, 139 million more than in 2015.
GWI also predicts that wellness tourism may see a 7.5 per cent increase per year.
By 2020, the sector will be able to reach $919 billion and account for 18 per cent of the proportion of the world travel market.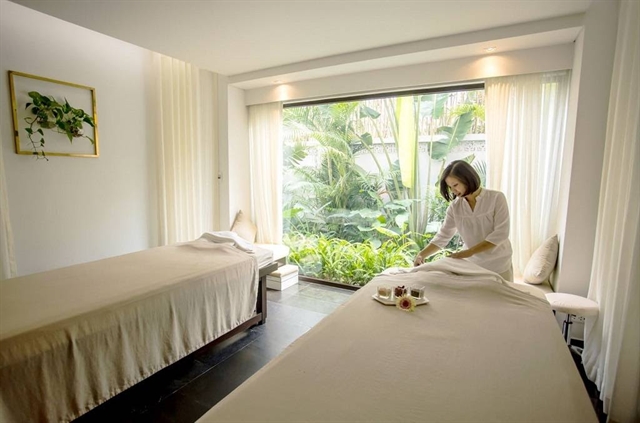 Mauro Gasparotti, director of Savills Hotels Asia Pacific, said that wellness tourism was growing 50 per cent faster than total global tourism rates.
The average annual growth rate of wellness tourism arrivals in Vietnam was 23 per cent.
Wellness tourism spending premiums were 51 per cent more than typical international tourists, Gasparotti said.
"Millennials prefer to spend more money on experiences than on material things. Wellness tourism offers new experiences for tourists," he said.
Ten per cent of wellness travellers see wellness as the primary or sole purpose or motivating factor for their trip and destination choice, while those who see it as a secondary purpose or want to maintain wellness while taking any kind of trip account for the remaining 90 per cent.
As such, wellness retreats should be combined with experiences for tourists such as healthy food, local communities, cooking classes and in-room lighting, he added.
Nguyễn Thanh Bình, deputy director of Vietnam National Administration of Tourism's Hotel Department, said in recent years the strong growth in the number of international and domestic tourists had increased investment in hotels, resorts, and tourism apartments.
The annual room growth rate was estimated at 12 per cent over the last few years, Bình said.
Last year, the number of accommodations rose to 28,000 with more than 550,000 rooms, an increase from 13,756, with 256,000 rooms in 2011.
In the last two years, many three to five-star hotels and resorts have invested in wellness facilities such as gym and yoga rooms, spas and beauty services to lure travellers.
Travellers are paying more attention to integrating healthy habits and activities into their lifestyles and travel.
Destinations should focus on exploiting wellness services to attract tourists who want to escape otherwise stressful lives or improve their health while traveling, Bình said —VNS.
Update: April, 26/2019 – 07:37
Source: Vietnamnews.vn